Home

Patterson Toyota is your one-stop shop for tires and tire accessories. We've made the experience quick, easy and fun with the Toyota Tire Locator. Whether you're looking for winter, summer, all-season, performance or truck tires, we've got you covered. Simply indicate the size, measurements and tread of your desired tires and our online tool will do the rest. We're your winter tire experts in Woodstock, NB and surrounding areas.
---
OUR DEALERSHIP IS PROUD TO OFFER THE FOLLOWING TIRE BRANDS: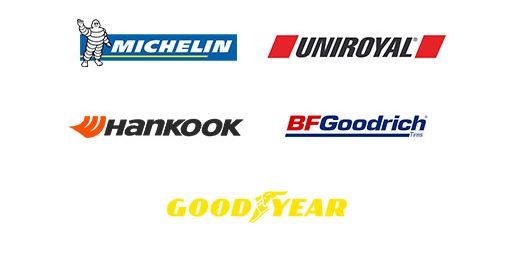 ---
OUR TIRE SERVICES
Balancing: Starting at $28
Rotation: Starting at $15
Wheel install (steel): Starting at $60
Wheel install (alloy): Starting at $72
Tire Storage: $30 per season
---
NOT SURE WHAT YOU'RE LOOKING FOR?
Tire shopping isn't always a walk in the park, especially if you're not sure which tires will work best for your vehicle. To make things a bit easier, and to help you shop for tires in our Tire Centre, we've outlined five of the most popular tire models.
WINTER TIRES: Necessary for maneuvering snow, sleet, ice and extreme cold.
SUMMER TIRES: Ideal for hot, wet and humid driving conditions.
ALL-SEASON TIRES: Can be used year-round, but do not replace winter tires.
PERFORMANCE TIRES: Increased stability at high speeds.
TRUCK TIRES: Performance-based; generally used for off-road experiences.
---
Need a hand with changing your tires? Give us a call at 1-(877) 977-8314 to book a service appointment with our expert technicians.